Understanding Materiality of Bespoke Luminaire Design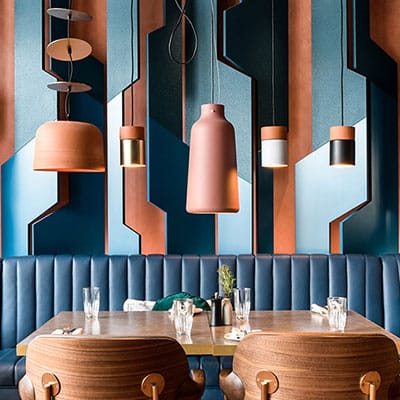 Understanding what the client is REALLY after 
The most crucial element of determining the finish of a custom designed feature or bespoke luminaire is understanding the difference between, "What the customer is asking for?" and "What effect is the customer intending to achieve?"
At Aglo, we frequently are asked to achieve a desired look or finish with a given material. For example, a client may request a polished gold finish on a feature pendant. However, a key consideration when a client asks for such a finish is, "Are they are aware that polished gold reflects the surfaces and colours around it?" In order to achieve a mirrored finish, while still ensuring the gold colour remains prominent, the luminaire will need to have an element of satin in the finish. A skilled bespoke luminaire fabricator will be aware of considerations such as these and will be able to advise requested finish's viability.
A good example of how materiality affects finish can be seen in the custom luminaires Aglo Custom created for Castello's Pakenham Hotel.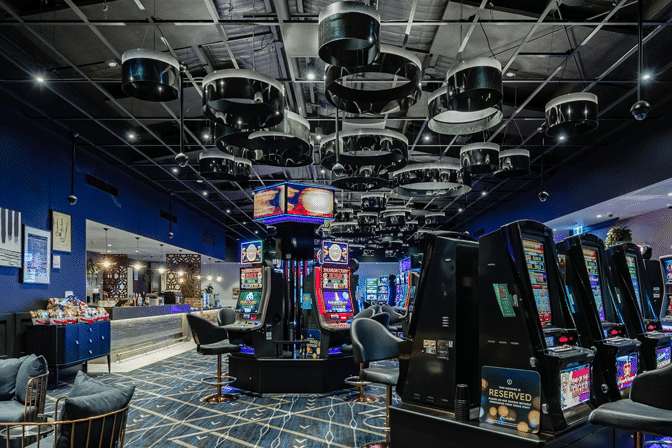 The circular discs initially appear gloss black but are in fact mirrored chrome. The black appearance is a result of the matte black ceiling being reflected in the luminaire. An experienced bespoke lighting manufacturer can advise of these factors during the design or prototyping stages. In this case, this is the result the client was seeking.
Materialty and texture
When it comes to bespoke luminaires, materiality is just as important as form, function and location, and is as inseparable from the design process as the other three.
Materiality, when considered and executed thoughtfully, ensures visual coherence and complements the form of the luminaire, while providing a purposeful use. It should never be considered separate or subsequent to design; a skilled custom lighting manufacturer will be able to ensure that the vision in the architect's mind will translate seamlessly into reality.
Creating visual depth and tactile appeal
A luminaire's materiality can introduce visual depth and tactile appeal to a room, whether it be a feature pendant, a series of wall sconces, or a centrepiece table lamp. Changes in material can alter the way a fitting absorbs or reflects light and can create personality and character within the space. Exotic textures help to personalise an interior design and can also increase the perception of a luminaire as bespoke, custom-crafted, or handmade.
Warm and cool materials
These materials make the space feel warmer, intimate, and more organic. Common "warm" materials include ceramic, terracotta, leather, wood, rattan, wicker, rope, and fabrics. Metal elements, even when finished in warmer colours, make a space seem cooler, more impersonal, and more architectural. Common "cool" materials include glass, steel, aluminium and concrete.
Stone is a chameleon, adapting to the environment around it to enhance the existing scheme. The complex and intriguing veins within marble means it is being increasingly incorporated into bespoke table lamps, feature pendants, and decorative wall lamps. Split sandstone's rougher edges give warmth, character and texture, and reinforce perceptions of "handmade" or "artisanal". Polished stone such as marble, granite, travertine and terrazzo are cooler, and imbue feelings of luxury or extravagance. While many of these materials do not feature in the luminaire's construction, they must nonetheless complement each other and the overall design aesthetic.
A marble benchtop in warmer, earthier tones (browns, beiges, golds and reddish oranges) encourages a warm and homely feeling; the same marble benchtop in cooler colour tones (silvers/greys, charcoals, blacks, blues) is cooler, more architectural and creates more of a statement. Whites and very light greys can be completely neutral, taking on the tone of the environment. This same analogy applies to using stone in bespoke luminaires; the colour and cut of the stone can drastically change how it feels in a room.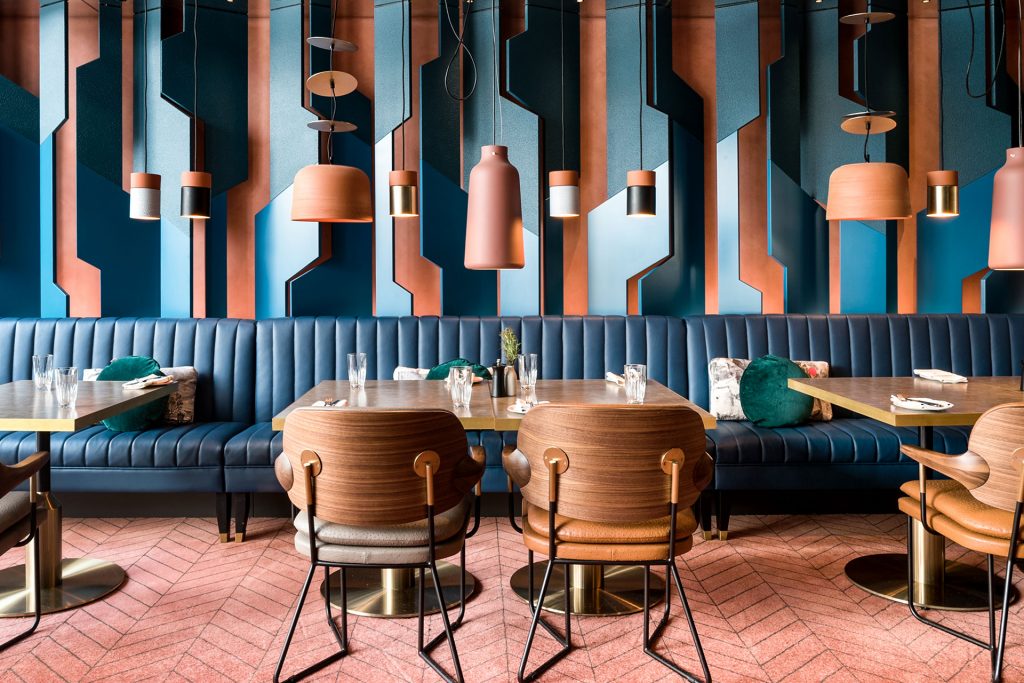 Consider a pendant with a matte terracotta finish, as compared to a pendant with a terracotta-coloured steel. Whilst both examples are similar in colour, they produce very different results aesthetically. The porous, rougher surface of terracotta attracts the eye differently, and is perceived as more earthy, natural and artisanal. The terracotta material also absorbs light more than it reflects, altering how we perceive the fitting.
Design aesthetic of project/room will influence finishes required
When manufacturing a bespoke luminaire, particularly a large feature fitting, it is important to consider how the fitting's materiality will complement the design aesthetic of the room.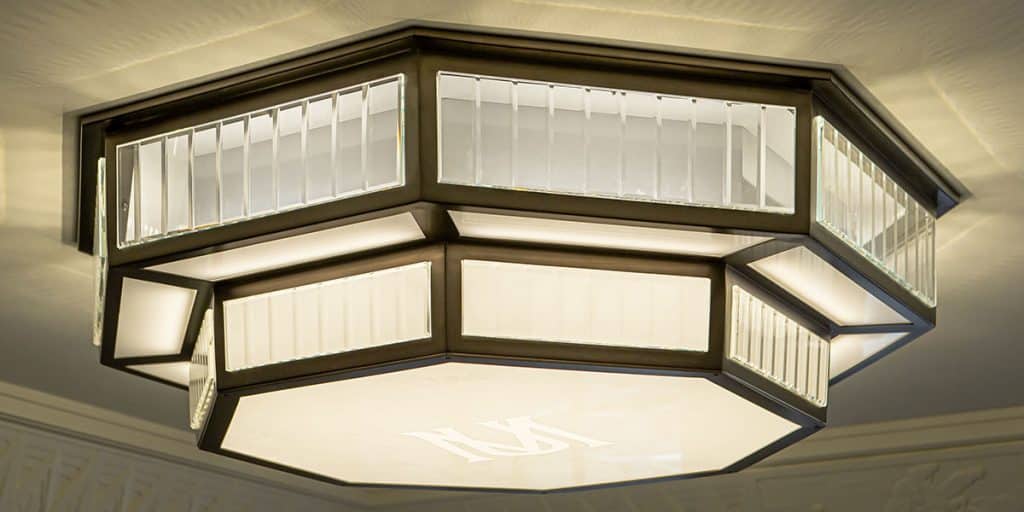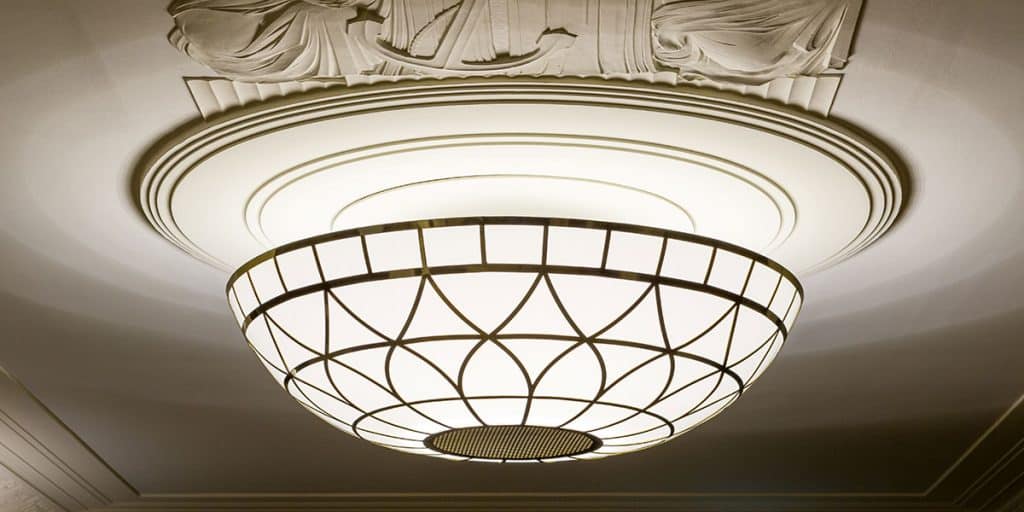 For example, our Manchester Unity Dental Suite featured several feature pendants in the Art Deco style. To harmonise with the building's architecture, the fittings needed to reflect Art Deco's chrome, metallic and glass finishes. Cooler textures and finishes, darker and more muted colours and ornate designs in the luminaires reflect the building's period details.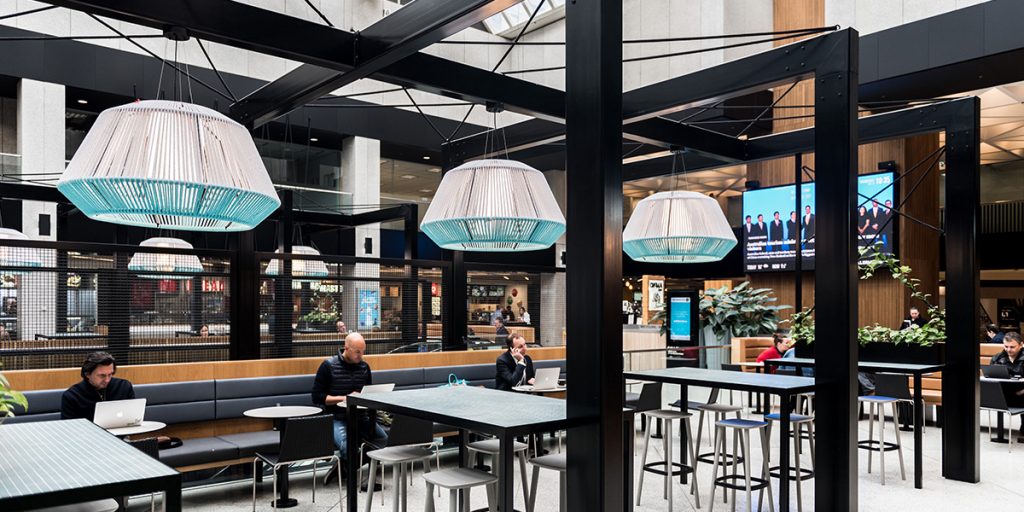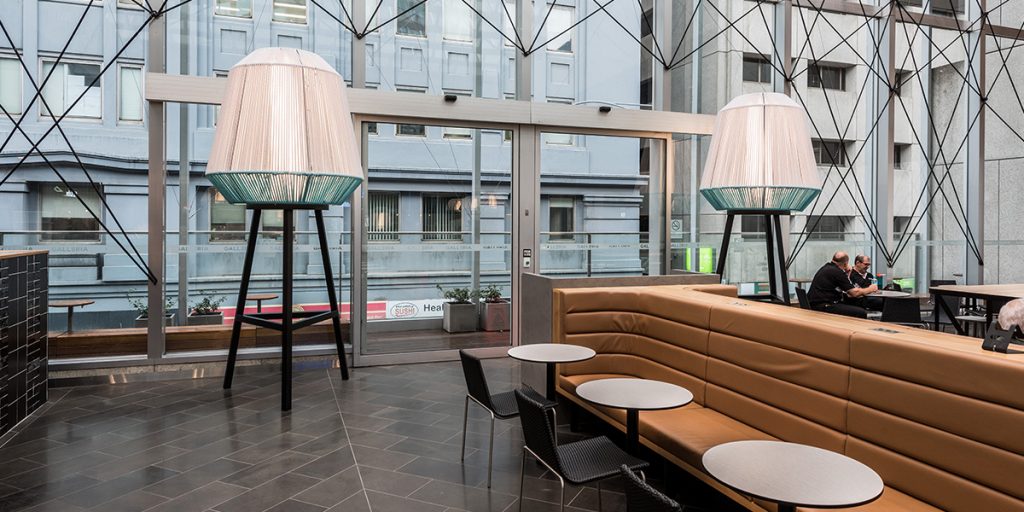 By contrast, the rope feature pendants and floor lamps we created for Galleria Shopping Plaza use the warming, organic feel of rope to soften the otherwise industrial space; a metal or glass pendant would have rendered the space harsh and utilitarian.
Managing cost
The bespoke luminaire design process can be a very expensive one if not managed by experienced hands. From a fabrication perspective, warmer materials are likely to be harder to produce due to requirement of human involvement and the lesser scope for automation. These materials are harder and often more time-intensive to manipulate. A skilled bespoke luminaire designer or fabricator will make you aware of these factors, as more labour-intensive will be more cost-intensive.
A skilled fabricator will also be aware of advancements in this field, with 3D printing one of the most rapidly developing manufacturing resources. A 3D-printed terracotta-finished wall light, for example, is a cost-effective alternative method of replicating the look, feel and style of terracotta, but without high labour involvement that terracotta would normally have.
Contact us 

to discuss your custom design and manufacturing requirements today.
Authors: Luke Martin and our Custom Design Team