Why LED Shelving Works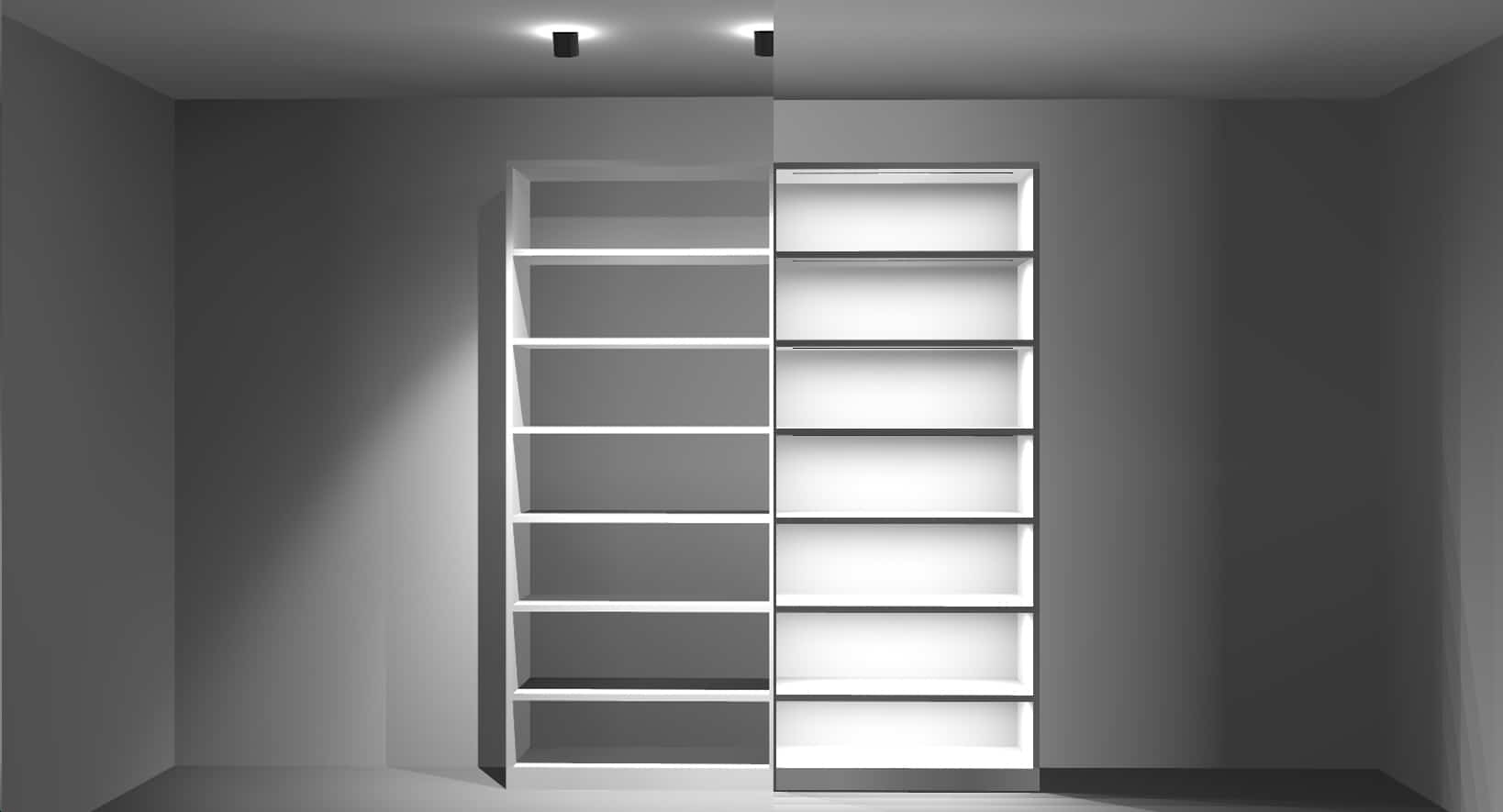 LED shelf lighting can be a highly effective and efficient way to highlight retail offerings, create ambience, and accentuate decorative displays.
Given the increasing popularity of LED shelf lighting across both the retail and non-retail areas, we look at why this is the case and what it may be able to do for your needs.
1. Cost and Energy Efficiency Advantages of LED Shelf Lighting
The retail environment is notoriously rough and tumble at times. A retail store environment requires reliable, sturdy and energy-efficient lights capable of withstanding high traffic volumes.
Without filaments or glass enclosures, LED strip lighting is resistant to breakage and largely immune to vibrations and other day-to-day impacts. In a retail environment, which is full of the hustle and bustle of foot traffic and everyday trade, this is a key attribute. LED lighting is also known for its extremely low power consumption and generally high efficacy (power-to-output ration). With proper heat dissipation, little heat will be generated – perfect for smaller or enclosed spaces, such as small display shelving units.
With a lifetime of minimum 50,000 hours before it starts to dim, and requiring virtually zero maintenance, LED lighting is extremely long-lasting and cost-effective over the lifetime of the fitting.
LED shelf lighting can result in lower power consumption, overhead and operation costs for retailers, and cheaper lifetime costs due to the extremely long lifetime, hardiness and minimal maintenance requirements inherent to LED lighting.
2. Diversity of applications – Retail and Non-Retail Environments
LED shelf lighting is the easiest way to highlight displays, providing uniform lighting, and create ambience. It is increasingly used in the hospitality industry, from high-end luxe hotels to industrial-chic warehouse conversions, to restaurants and cocktail bars. LED shelf lighting is also being rapidly adopted in private homes, where it is used to create a premium feel in kitchens and bathrooms, to illuminate keepsakes and vignettes in lounge rooms and studies, or to provide unobtrusive task lighting in butler's pantries.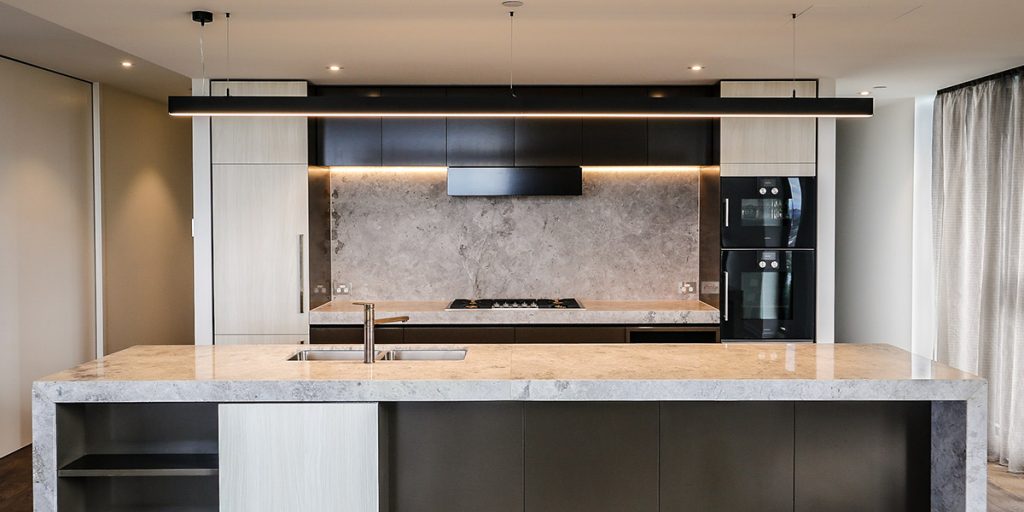 One of the key advantages of LED shelf lighting is that it is easy to install and can be applied almost anywhere. By positioning LED strips at the front or rear of the shelf, clients can create a focused light or can generate softer backlighting. Well-placed shelf lighting can also shine through objects on shelves, highlighting the contents, and provides visual depth and another element to the design.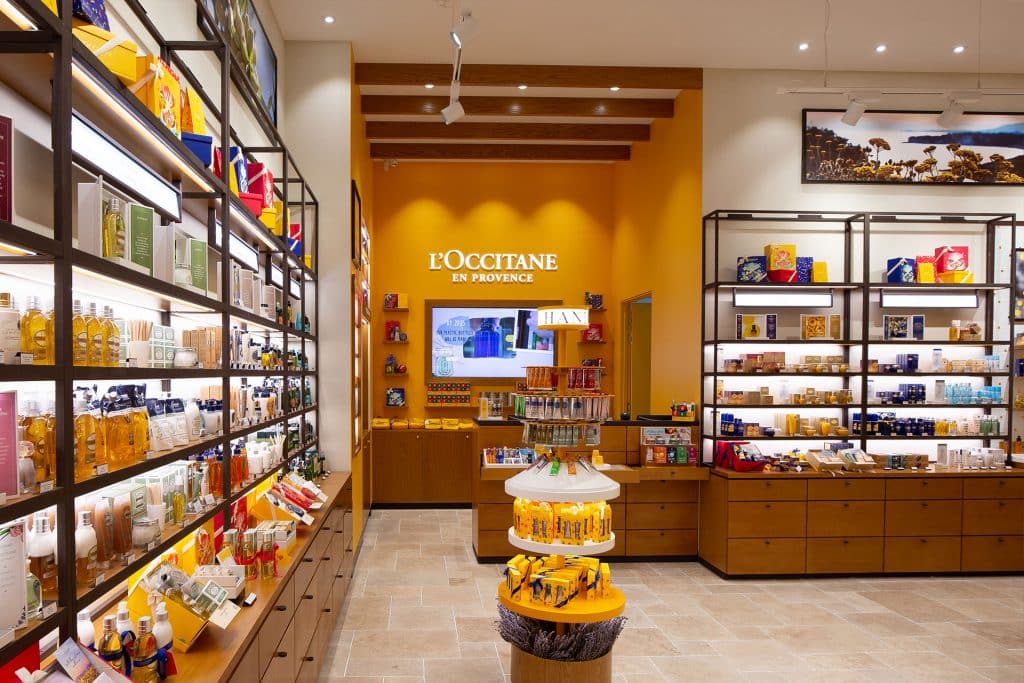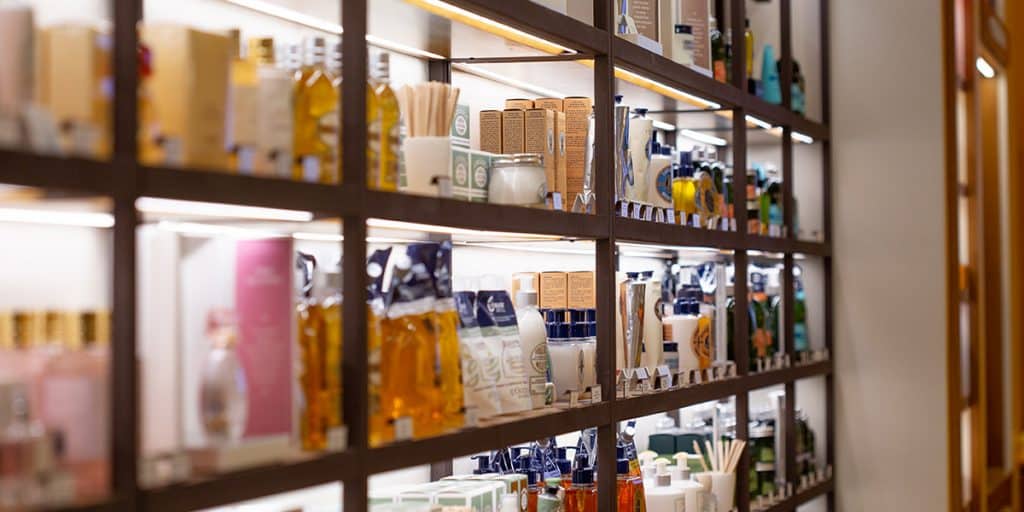 Another benefit of LED shelf lighting is that is adaptable. In a residential and hotel applications, warmer lighting colours create moodier, intimate and luxurious atmospheres; in retail applications, cooler lighting colours better accentuate the product and create more realistic, punchier colour perception.
LED strip lighting can also be supplied in flexible housing, allowing it to curve and hug bends, and is available in moisture resistant (IP54), waterproof (IP65) and fully weatherproof ratings (IP67), demonstrating the versatility in its installation. LED shelf lighting minimises any shadows cast by overhead ceiling light, and is also low glare, ensuring visual comfort for end-users.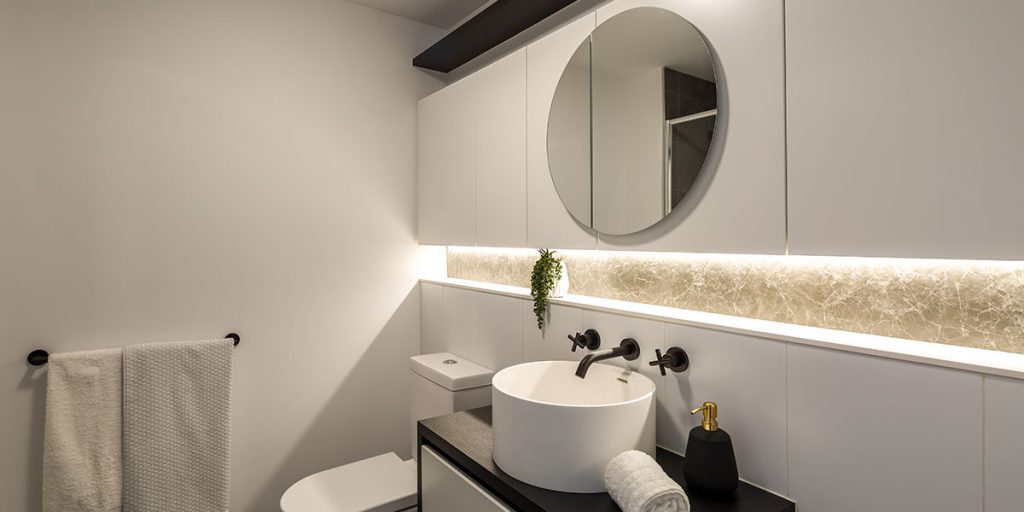 3. Greater Control and Illumination for Highlighting Visual Merchandising
The drawing on the left  has shelving illuminated by overhead track-mounted spotlights. In order to have adequate lighting to the bottom shelf, overhead spots (usually about 20W-30W) must be angled specifically. Even then, the light throw generally lands on the items at the front of the shelf. If someone is to stand in front of the light beams, visibility is reduced even further. Beam angles for this sort of task lighting are roughly 20-30°, which means a fair amount of power is required.
With track-mounted spotlights, it can be hard to get even illumination on all shelves. This is even more apparent when there are obstructions in front of the display. LED shelving works where spots doesn't, by ensuring there is even, uniform light distribution that is unaffected by obstructions in front of displays.
In the second image on the right, LED shelf lighting provides a far more targeted light source. The objects at the back of the shelf are also lit, as the linear LED has a beam angle of usually 110-120°. A similar result is achieved using far lower power consumption (usually 9.6W/m or 14.4W/m, sometimes 19.2W/m if the client wants to really light things up). The LED shelf lighting is immune to shoppers standing in front a light source and blocking the light, as would happen with track-mounted spots.
4. Greater Control of Dimming Capabilities
LED lighting has a high degree of control, allowing dimming to as low as 10% (compared to incandescent bulbs, which only go as low as 30%). LED lighting can also be dimmed intelligently with methods such as DALI (Digital Addressable Lighting Interface), a network-based lighting control system; and Casambi, a Bluetooth-based lighting control system accessed via an app installed on smartphones, tablets, smart watches and intelligent wall switches.
These dimming and control options can be included as part of the larger room's overall lighting control system. In doing so, shelving lighting can be programmed to thoughtfully complement overall lighting, or to stand om its own as a feature.
5. Environmentally Conscious
With sustainability being part of the corporate ethos for many clients and end-users, environmental concerns are more important than ever before. LED shelving can be a key component of an environmentally conscious installation for several reasons.
Its extended lifetime and low power requirements mean that it is an environmentally conscious choice; the longevity of LED fittings means that replacement is rare, which helps to keep more lights out of landfill
LED lightig also contains no mercury or lead, unlike older lighting technologies. In particular, compact fluorescent bulbs of the past posed safety risks if improperly disposed of; failed LED lights are safe to handle and do not require specialised clean-up.
If you are interested in LED shelving, or if you require a lighting design to see how your LED shelving could be improved, get in touch with us today so we can improve your lighting experience.