Interior Botanical Lighting
Our experienced team can assist you on a range of indoor botanical projects to ensure your project continues to thrive.  Our work has a strong emphasis on creativity combined with technical expertise. We provide comprehensive reports and visuals to illustrate the proposed lighting effect.
Testing
Our Luminaire's are tested in house at the Aglo Photometrics Lab in Melbourne. We measure key units such as Micromoles (μMol – Light Intensity) and TM30 Colour spectrum characteristics to ensure the most effective luminaires are specified for your project.
Modelling
Our in-house lighting design team will model your space to ensure uniform illuminance (Lux) is achieved via layered lighting techniques, precise aiming and beam selection.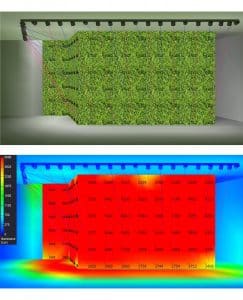 Light Intensity and Colour Spectrum
Lux levels will be specifically chosen with your choice of plants in mind, as well as colour spectrum. Balancing plant growth and visual appeal. 4000K to assist with comfort and warmer colour representation. 6500K for a cooler appearance closer to that of natural daylight for faster plant growth.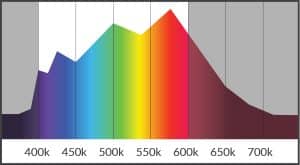 Featuring ComfoLED technology, by Aglo.
A new light source with a spectrum that closely mimics natural sunlight, to enhance performance, your health and well-being.
Compared to standard LED, our ComfoLED technology improves the health of indoor plants and is the perfect light for your botanical lighting needs.
Want to find out more?
Contact us to discuss our ComfoLED technology and Green Wall lighting capabilities today.