New Lighting Trends from EuroShop 2020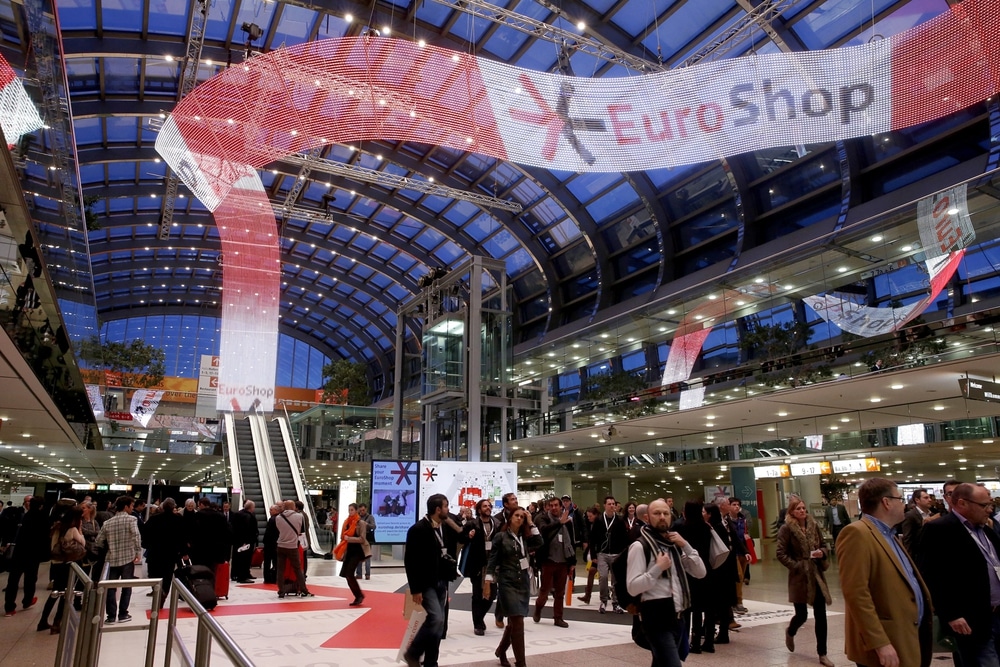 Our Managing Director, Pat Galvin and General Manager, Lucas Zumpolle travelled to Dusseldorf to explore the latest lighting trends in shopfitting and lighting at the Euroshop 2020 Show. While generally, the attendance was down on previous years, there were still plenty of exhibitors displaying their products. Of interest from a lighting perspective was a demand for illuminated adjustable shelves. The innovations in linear shelf lighting systems enable you to have an illuminated shelf with no fixed wiring. The benefits include ease of installation and the in-store convenience of adjustability, without the need to disconnect potentially messy wiring. We will be working with our partners and releasing to you soon.
Another notable point of interest in lighting trends was the advancement of in-store technology/lighting compatibility. We were able to work through the possibilities of user-friendly in-store experiences, via a Mobile phone or in-store handheld device. The lighting system installed in your store is able to emit a signal which then interacts with your chosen device. The customer can then walk anywhere in the store and identify, then download the chosen item.
We are looking forward to sharing new Dynamic Shop Window lighting which is used to create the illusion of movement within static window displays. Dynamic Shop Window lighting is produced via Casambi and controlling through the dimming, timing and colour temperature feature to create 3 or 4 moments to create the sequence for the display. The benefits include increased shopper engagement and footfall whilst also being a cost-effective way to change up window displays. We are looking forward to sharing further information about this innovation with you soon.
Philips have developed drivers with Visible Light Communication technology (VLC), allowing the LEDs modulate an identifier at a frequency beyond human perception. As the VLC technology is integrated into the driver by design, there is no impact on the energy efficiency, and allows luminaires to transmit VLC while upholding the guarantee of the driver.
We look forward to working with our partners to bring to the market this exciting technology in a user-friendly way.
Please contact any of our sales or design team for further information.