HURRY: VEET rebates reduced from 1 Jan 2018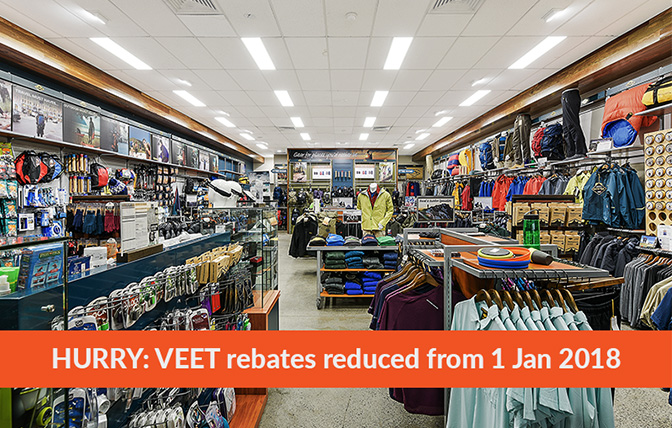 Proposed changes to the Victorian Energy Efficiency Target (VEET) scheme
Victorian Energy Upgrades have proposed a discount factor for the VEET scheme to come into place in a two-stage implementation from 1 Jan 2018. The discount factor will apply for commercial, building based lighting upgrades of T8 or T12 linear fluorescent lamps and high intensity discharge lamps (metal halide, mercury vapour and high pressure sodium lamps). The intended discount factor will be used when calculating the greenhouse gas reductions for Victorian Energy Efficiency Certificates (VEECs).
This means that the same lighting upgrade completed in 2018 will generate 10–30% fewer VEECs than if it was to be completed in 2017. Fewer VEECs means less discount we can apply to the cost of your lighting upgrade. 
While the planned changes are currently in the consultation period, it is likely to proceed. The following table indicates the proposed roll out of the discount factor:
| | | |
| --- | --- | --- |
|    Type of incumbent lamp or upgrade lamp | Discount factor applicable from 1 January 2018–31 March 2018 | Discount factor applicable from 1 April 2018 onwards |
|   T8 or T12 linear fluorescent | 0.9 | 0.8 |
|   Metal halide | 0.85 | 0.7 |
|   Mercury vapour | 0.85 | 0.7 |
|   High pressure sodium | 0.85 | 0.7 |
More information can be found here
What this means to you?
If you have an upcoming job or outstanding quote with us, now is the time to proceed to be able to leverage the highest rebates currently available. Uncertainty about these changes is also affecting the market price of VEECs and the applicable discount we can provide to you.
Please contact us to discuss when your lighting upgrade can be scheduled in.