5 Steps to design a lighting concept for retail stores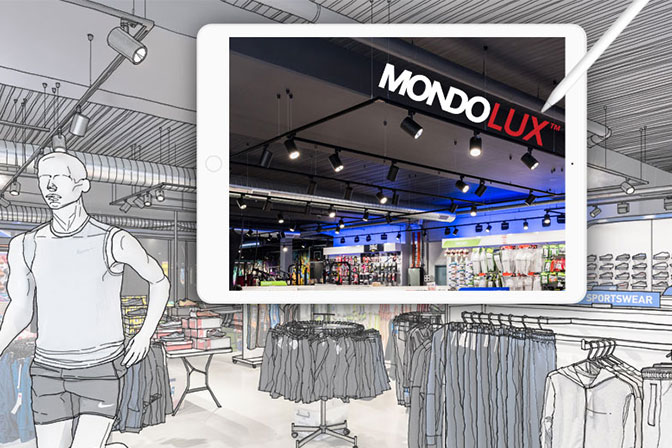 What are the 5 steps to design a lighting concept for retail store?
Pricing, product quality, brand reputation. These are just some of the things that can affect your store's sales performance. However, experience has taught us that lighting plays a huge part in consumer behaviour and has a big influence on whether a product is purchased from your store.
Aglo's Lighting Design Manager, Nari Lee has provided 5 essential steps for lighting design in a retail store, aimed at maximising product engagement.
Step 1
Interior concept analysis – Know the design intent
In the early stages of designing a retail store, it is essential to analyse the design and architecture of the store layout. This allows you to understand the optimal locations for light fixtures, thus Illuminating the entire shop floor accurately and efficiently. During this analysis phase, consider the following: 
Where are the main products displayed in stores? What is the primary focal point of the store?
Which products and areas need to be illuminated to engage the customer's secondary attention. (Posters, Interior features, cove ceiling etc.)
What is the colour theme of the store? (Product, Floor, Ceiling, Wall)   
Step 2
Browse similar design references – Imitation precedes creation
Your store's lighting design should aim to create a unique lighting concept that matches your brand identity and products.
Your retail store should be aesthetically engaging and emphasise the brand's character. Don't be afraid to be unique and don't waiver from your visionary brand details, but be sure to do this in an efficient and product-focused method.
Step 3
Store Condition / Detail Check – To doubt is safer than to be secure
Checking every small detail of your retail store is vital to achieve the optimum outcome for your lighting design. 
A primary condition to consider is natural lighting. Stores located on the street will benefit most from natural sunlight, particularly if the storefront is facing North. However, relying solely on natural light will lead to difficulties caused by the seasons and the weather. To counteract any negative effects and be adaptable to the conditions, lighting designs need to consider both the interior and exterior of the store.
Step 4
Optimal lighting schedule – Face up to reality
Your desires cannot always be achieved. They may not fit your budget, store layout or location. Sometimes, facing reality and adapting your lighting design is the optimal solution. Consider the following:           
What are my current conditions and realistic goals that can be achieved?
Is my budget sufficient?
Are my favoured lights available before the store is scheduled to be opened?
Is there sufficient time to install the lights?
If necessary, is there time to re-position the lights before the store opens?  
Step 5
Get expert help – All that glitters is not gold.
Retail stores and their employees can advise customers, assist them and answer any questions that they may have. This helps to improve the consumer experience. 
Aglo Systems prides itself on offering the same service that you would expect from a retail store. We know the lighting industry inside out. We can provide advice that is tailored to your store, find solutions that adapt to your conditions and create designs that showcase your products and brand identity to its fullest potential. 
Providing commercial lighting solutions is Aglo's core service, but our client engagement and desire to understand your business sets us apart. Taking time to learn about your brand identity, products and store layout ensures we can create a lighting solution focused on your core service; to make money.
Article written by Nari Lee | Aglo Systems Lighting Design Manager 
Want more information?
To find out more about our products, services or how we can help you find your best lighting solution, talk to us today.